Do What You Love And You'll Never Work Another Day In Your Life
If you love:
the idea of saying goodbye to your current job, running your own business and being in control of your own destiny,
the satisfaction of helping people, especially seniors and their families, in their time of need,
the freedom and flexibility that comes from owning a home based business,
the prospect of reaping what you sow,
the thrill of estate sales and second hand shopping,
the promoting of repurposing and saving our landfills, and
the thought of being in business for yourself but not by yourself,
then a Transition Squad® franchise may be just what the doctor ordered.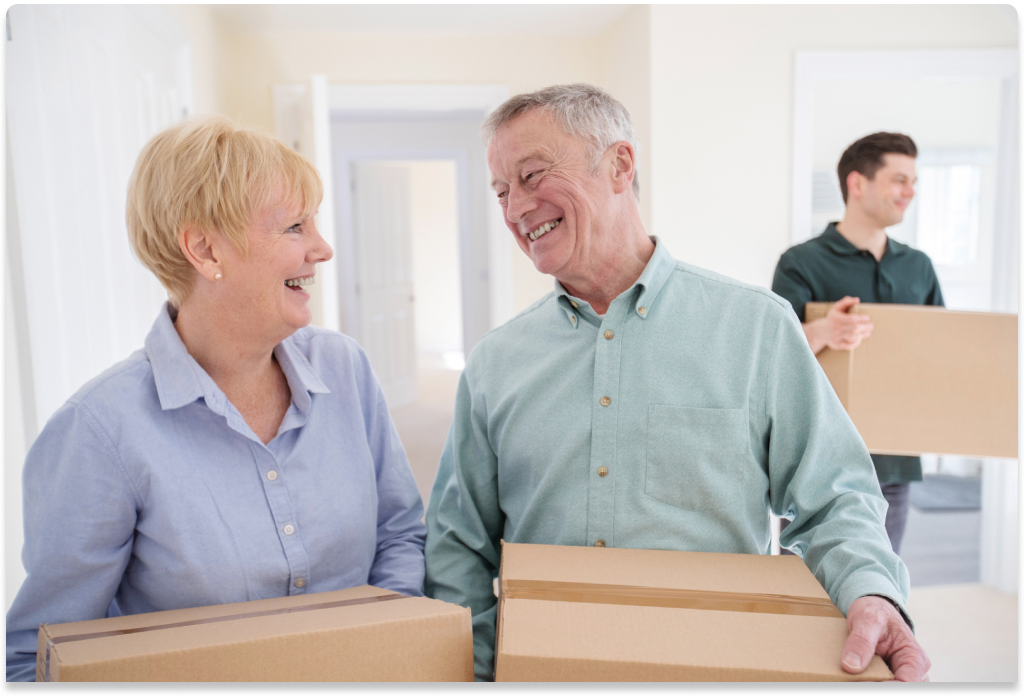 With the aging demographics of parents and busy lifestyles of caregivers and kids, the senior downsizing industry is the niche to be in for the next several decades. Don't take our word for it. See the Statistics tab below.
Since 2005, we've built a successful senior downsizing and online auction business in our market. Now, we want to help you do it in yours.
More about Transition Squad®
Transition Squad® is a full service downsizing company. We help seniors downsize and work with families going through a parent transition. We offer a menu of services that can be packaged together based on the unique needs of each customer. Our specialty however is to find a good home for our clients' belongings and maximize their sale price through our proprietary online auction platform.
In Canada, Transition Squad® is franchising. Our franchisees assist clients organize items into lots, manage photography, create inventory lists, oversee the pickup by winners and manage consignment, donation and junk removal of unsold items. Although, legally Transition Squad® is a franchise, philosophically it is a partnership.
In the US, Transition Squad® is not currently franchising. We are opening corporate locations with the intention of building up the territories and then selling them as franchises. We are looking for independent contractors to help facilitate the process for our downsizing clients.
Transition Squad® is a low overhead business. Our Franchisees work from a home based office, most costs are variable costs associated with paid projects. We offer financing options for franchise fees and each franchisee contributes to their own ad fund, not head office's. We match those amounts and apply the ad fund dollars to promote you in your market.
When you are a Transition Squad® franchisee, you are truly a partner. We share the work as well as the expenses and profits of every job with no royalties.
Why is Transition Squad® Different?
It's not just about making money or selling something. It's about helping people at a very difficult time in their lives. It's about finding a good home for their contents. It's about repurposing household effects instead of adding them to our landfills. It's about solving a big problem and making people's lives easier. So it's good for the environment, it's good for the community and it's good for your soul.
Legally it is called a franchise however philosophically it is a partnership. Most downsizing businesses are mom and pop shops. They start as a labor of love for helping people but in order to really grow to a point where the business generates a decent full time income for the owners, you need infrastructure, resources, staffing, technology, marketing and more. It's really hard when you're the one doing the work as well as the sales as well as the marketing as well as everything else. One month you have no work and so have time to pound the pavement. The next month, you reap the rewards but are too busy working to do more selling so next month, you again have little income. And in many cases, those that love doing the work don't love selling so they don't get as many opportunities as they could.
To create a thriving lucrative business in this sector, one cannot do it alone. It requires a team of people with a variety of skills to work together and keep business flowing. With our partnership philosophy, you focus on the local aspects of the business, building rapport with clients and project execution while we take care of the rest.
While we have competitors that typically offer bits and pieces of what we do, we are one of the few companies that have been successful at building a totally turnkey solution in the senior downsizing space. This means that you, as a Franchisee, will have a lot more to offer your clients both in value and services. This helps you close more deals without really selling and provides multiple revenue streams.
With a traditional franchise, you pay upfront fees and ongoing royalties. You license the system and get some support, but building the business is really up to you. With Transition Squad®'s partnership philosophy, we are in it together to build your territory. We provide you with much of the back office services like building custom web pages for each sale, vendor procurement, credit card processing, marketing, business development automation and much more, so you can focus on meeting with customers and executing the work. While you still have to network and promote your business, we are also heavily involved with the marketing and lead generation.
We're multiple franchise concepts in one. The Transition Squad® model provides a menu of services which are bundled together based on the needs of each individual client - from organizing to online auctions to estate sales to clearout/junk removal to donation management to moving services - designed so efficiently that each service can be a tremendous revenue stream on its own. But in any combination, it packs a powerhouse punch that helps you close far more deals.
We help qualify the customer so you can focus on local initiatives. When calls come in, we initially review the needs of each client, go over the programs and help them understand the benefits of our solution. We then forward their information to you to follow up and set up a meeting. By the time you get there, they are mostly ready to sign. They just need that local reinforcement that you'll take good care of them and their precious belongings in order to sign up.
Franchisees can operate from a home based office to give them flexibility and independence, plus tax benefits and extremely low overhead costs. In addition, most expenses are variable costs so you can build your business as projects come in.
We're big believers in simplify and automate, and we welcome everyone's ideas. Many of our greatest enhancements and improvements have come from our team, be they for generating additional value added services or implementing features that have increased efficiency and profitability for clients and us.
What are the types of Franchisees we are looking for?
To make any business successful, one has to work smart and then hard. We're looking for enterprising hard workers to be our partners in their local market. We want people that want to run their own show, build and grow a real business and help people along the way.
Seniors and their families will be entrusting you with their own personal effects, many of which will have sentimental value. They may call Transition Squad® because they see a benefit in our value proposition, but they will sign up because they trust, like and build a connection with YOU and believe that you will treat their precious items with the same care and attention as if they were yours. Therefore, it is very important that you are genuinely and sincerely interested in wanting to help the client
This role also requires an organized, resourceful, project management type of leader with excellent attention to detail, the ability to juggle multiple clients at the same time and excellent written and oral communication skills. You must be flexible with your time to meet client needs.
While you don't need to be a "tech geek" to run a Transition Squad® franchise, you should be comfortable with computers and basic programs like Excel, Word, databases and browsers on a Windows platform.
The ideal scenario is to have two partners, be it friends or even a husband and wife team, both for physical and emotional support and assistance. If you have complementary skillsets where one can focus on sales and one on operations, that is even better. With a family team, one can even be working full time while the business is in its early stages, and you can even hire your older children to assist with various aspects of the business.
What Markets are we Expanding to?
We are currently looking for Franchisees in any non-registration state. If you would like to receive franchise information and details of the opportunities, please fill out the form below to schedule a free consultation.
Interested so far?
Fill-out the form now and we shall contact you directly!